The Benefits of LED Panel Lighting
28-05-2022
LED panel lights are becoming more and more popular in the modern world due to their many benefits. These lights are commonly used in office spaces, hospitals, schools and retail units. However, since they are affordable, more and more homeowners are choosing to use them in apartment buildings and residential properties.
In addition, due to its compact and slender design, they can be easily mounted or installed on walls, ceilings and any other even surface, which makes it a necessary luminaire for modern structures. There are a number of other sizes that differ from the typical rectangular panel as well. Here are the advantages of investing in high quality LED panel lights.
Lifespan: We know you have a busy life and finding the time to constantly replace broken bulbs can be frustrating. Fortunately, LED panel lights are more durable than traditional bulbs. In fact, they typically last 10 to 15 years or even longer, depending on how often they're used every day. This saves you money on replacing expensive bulbs every year and gives you more time to do the things that are important to you. Not to mention, it also reduces the need for electricity and energy, which is a great way to do your part to protect the planet's resources.
Eco-Friendly:Compared to most traditional fluorescent lamps, LED panel lights do not contain toxic chemicals, whereas traditional fluorescent bulbs contain a variety of materials that are extremely dangerous to the environment, including mercury. In addition, LED lights are 100% recyclable and will help you reduce your carbon footprint by up to one-third. The long functional life of these lights means that one LED bulb can save the materials and production of 25 incandescent lamps (and 150 incandescent lamps if we're talking about one LED panel light). It's a big step toward a healthier, greener future.
Good heat dissipation:The LED panel light is slim and looks simple but stylish. Here the side lighting design and the aluminum frame ensure good heat dissipation. The LED panel light is also equipped with a heat sink system to ensure a high degree of safety.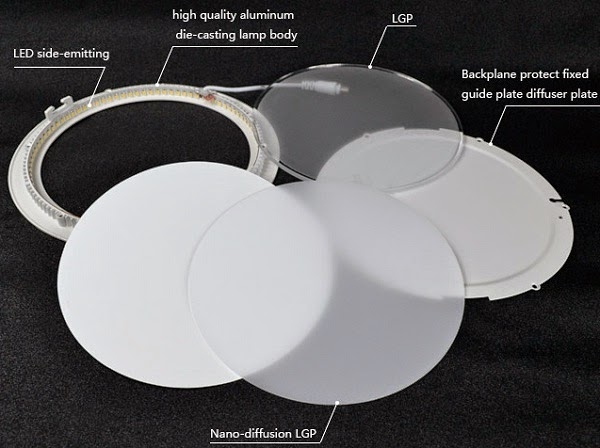 Safety: LED panel lights do not overheat like other traditional incandescent lamps. This makes them safer and less of a thermal hazard.
LED panel lights are one of the best "green" technologies available today. Because of their exceptional benefits and high performance, more and more people are choosing to install LED panel lights in commercial or residential spaces instead of bright fluorescent lights. Contact us today for more information on Land Lighting.